Laboratoire Nutergia
NUTERGIA: Over 25 years of history and expertise in micronutrition
In 1989 Claude Lagarde, a pharmacist-biologist, founded Laboratoire NUTERGIA, the laboratory for Active Cellular Nutrition®. His main concern was to encourage as many people as possible to take care of their own body through healthy nutrition.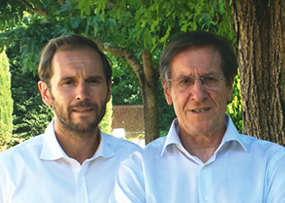 And it is with the same commitment and ethical approach that his son Antoine Lagarde and the entire team of employees are passionately developing the NUTERGIA adventure.
So for 25 years already, Laboratoire NUTERGIA has been working in your interests to enable you to find balance and well-being thanks to more than 75 high-quality food supplements supported by expertise recognised by numerous health professionals.
We are also able to offer you advice for a healthy lifestyle and solutions to rebalance your nutrition.
Conscious nourishment, self-respect and self-preservation are the fundamentals underpinning all the work carried out at Laboratoire NUTERGIA.

"Let your food be your main medicine" Hippocrates (460-356 BC)